ADVISOR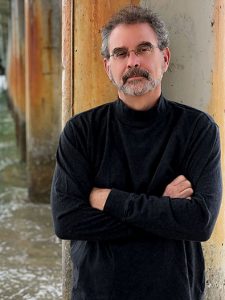 At a young age Sandy Hackett was inspired by his father, legendary comedian, Buddy Hackett, to enter the world of comedy. Buddy was a powerful teacher and role model; an avid reader, studying diligently, and re-examining his comedy techniques. He taught his son by example. The younger Hackett soon learned that an evening with Buddy Hackett was an evening of comedy and entertainment at its best. Sadly, Buddy passed away on June 30, 2003 but gave his son the foundation from which he began his development, growth and versatility as a performer, producer, writer and entertainer. At age eleven, Hackett accompanied his father for a scheduled appearance on "Rowan and Martin's Laugh-In. " It was there that he caught the eye of the show's producers and made his first professional television debut with John Wayne.
Sandy graduated with a degree in Hotel Administration from UNLV for which he also served as UNLV's Director of Entertainment. He produced "The Sahara Showcase of Talent" at the Las Vegas based Sahara Hotel & Casino for four years before it was renamed "Sandy Hackett's Talent Showcase" and ran for another decade. Additionally, Hackett hosted and produced the show at Sahara Reno, Sahara Tahoe and the old Mint and Dunes Hotel & Casinos. During this time Sandy introduced over ten thousand acts, including many first -time appearances by Andrew "Dice" Clay, Howie Mandel, Gary Muledeer, The Unknown Comic, Tony D'Andrea, Kenny Kerr, George Wallace and many others.
For the next 40 years he led his people through the desert in search of the Promised Land, stopping at comedy clubs to learn his craft and entertain the masses. His father came to see him one night and asked him to come share the stage with him. It was a dream come true for the younger Hackett. He accepted and then got to travel and learn from the master of comedy for the next 10 years as his opening act, road manager, stage manager, navigator and best friend.
Throughout the 1990's, Hackett successfully ran his own comedy club in Laughlin, Nevada. An accomplished agent, manager, event planner, and buyer of talent, he became the Entertainment Director for Sun City Summerlin, booking talent for over 400 shows in two years at the Starbright Theater.
When HBO announced it was going to do a movie about the Rat Pack, longtime family friend, Joey Bishop, called and said, "Sandy, I think you'd be perfect to play me!" Hackett replied, "Uncle Joey, that's great! Who do I call? What do I do?" Bishop said, "I don't know! Nobody called me!" The idea of playing Bishop struck a chord with Sandy. Bishop (one of Buddy's best friends and a man the younger Hackett grew up with) was someone Sandy had long admired. He decided to pen his own show, recreating Bishop and his famous buddies, Frank Sinatra, Dean Martin and Sammy Davis, Jr. Hackett, together with producer / director / singer / songwriter, Lisa Dawn Miller, created and produced, "Sandy Hackett's Rat Pack Show." Broadway World writes, "The Best Show This Year!" for its run at the prestigious Kauffman Center for the Performing Arts. The Telegram and Gazette Review writes, "As Joey Bishop, Sandy Hackett was the glue that held the show together. His hilarious stand-up routine had the crowd in stitches." The show tours nationwide to critical acclaim and has earned thousands of fans from across the globe.
Sandy premiered his new show, "My Buddy," a live theatrical production about the life of his father and the deep bond they shared. Directed by Miller, the show opened to wonderful reviews and standing ovations at the Kravis Center for the Performing Arts and is now on tour.
As an actor and comedian, Sandy has entertained audiences in hundreds of performing arts centers and in numerous film and television projects. He stills loves doing stand-up and often makes guest appearances in comedy clubs and venues throughout the U.S.
As fate would have it, Sandy got to work with the icons he would eventually create a show about when he appeared with Sammy Davis Jr., Dean Martin, and Frank Sinatra in The Cannonball Run II. When asked what it was like to work with three of the greatest entertainers of all time Sandy said, "It did wonders for my resume." It wasn't long before he landed a feature role in "Hot Dog, the Movie" and a starring role in "Hamburger, the Motion Picture."  Joey Bishop handpicked Sandy to work with him to develop a new game show, "Joey Bishop's Punchline."
Although known primarily as a comedian, Sandy has worked as a dramatic actor in the films "Jack of Hearts", "Lovers & Liars", and "Ex-Cop." He played District Attorney Martin Siegel in the acclaimed PBS series, "On Common Ground." Sandy's next film was also a drama, "The S.I.N.," a political thriller in which he portrayed private detective Bud Chelzer. He then appeared, singing and dancing, in a new musical holiday spectacular, "Twas." He had starring roles in "The Indie-Pendant" and "Down & Derby" with Pat Morita. He appeared in the independent sitcoms, "Papagallo" and "In-Focus" and as the head of the family in "Wise Guy Rentals," an organized crime dramedy.
MORE
---
DID YOU KNOW
Sandy is a big Dallas Cowboys fan and also loves the L.A. Lakers and Golden State Warriors.
Sandy loves a great eggplant parmesan!
---
MUSICAL INFLUENCES:
Ron Miller
Stevie Nicks
Barbra Streisand
Ella Fitzgerald
Ray Charles
---
YEARS ACTIVE:
1970 - Present
---
INSTRUMENTS PLAYED:
SOCIAL