ABOUT THE ARTIST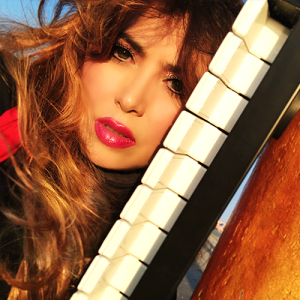 New York Cabaret Scenes writes, "Lisa Dawn Miller's show at The Metropolitan Room was one of the best shows I have ever seen. Very rarely do you get to see a singer cast a magic spell on stage and have the audience in the palm of her hand." Jeff Rossen, Chicago Editor / Recordings Reviewer, Cabaret Scenes Magazine said of Miller's "Fly Away" CD debut, "Take a collection of songs of exceptional quality and breadth, set them in striking arrangements and then turn the lyrics and melodies over to a singer whose voice can cut straight through the heart, and you've got one heck of a dazzling debut."
Lisa made her pop songwriting debut with the release of two EPs entitled, "Hello You" and "My Turn Begins Today". She wrote "It's Christmas" and "My Favorite Time of Year" which premiered in "Sandy Hackett's Rat Pack Christmas" during its nationwide holiday tour. Lisa can also be heard in the film, "When Comedy Went to School" in which she performed and produced the film's opening and closing theme songs.
As a performer, Lisa portrays "Frank's One Love" (a character based on Frank Sinatra's relationship with Ava Gardner), in the hit musical she produces, "Sandy Hackett's Rat Pack Show." Broadway World writes, "The Best Show This Year!" for the show's run at the Kauffman Center for the Performing Arts where it played to record-breaking crowds. The show tours extensively throughout the U.S. to rave reviews and has earned thousands of fans across the globe. Lisa produced and directed a behind-the-scenes look at the making of the musical. Her original songs can be heard in the show on the stages of hundreds of performing arts venues across the nation.
Lisa's father was legendary songwriter, Ron Miller. Some of his hit songs include "For Once in My Life," "Touch Me in the Morning," "A Place in the Sun," "Yester-me, Yester-you, Yesterday," "Heaven Help Us All," "I've Never Been to Me," "Someday at Christmas," "One Little Christmas Tree," "Everyone's a Kid at Christmas Time, "If I Could" and many more.
Lisa has produced several music videos, including for her son, singer/actor, Oliver Richman – who was personally invited by legendary icon Stevie Wonder to share the stage when he was just 10 years old. She produced Oliver's recording and music video, "For Once in My Life – The 50th Anniversary Release" and has written/produced numerous original songs for Oliver and her daughter, singer/dancer/actress Ashleigh Hackett, including "Today," "You and I," "Rise," "Diagramming Rap," "Slay," "Let's Go" and "On and On and On". Lisa's production credits include reimagined covers for the Ron Miller Legacy Catalogue, such as "Heaven Help Us All," "Will I Still Be Me," "Everyone's a Kid at Christmas Time" and "A Place in the Sun".
Lisa's next EP, entitled "There You Are," is a collection of songs about life, loss, and moving forward in the face of tragic loss and adversity. It is dedicated to James E. Wallace, Jr., Lisa's soulmate who passed away suddenly and unexpectedly at the very beginning of the new journey they shared together. The first single, "Rhythm of Me" is due 2023.
---
PLAYLISTS
---
ARTIST FACTS
Lisa has performed on over 500 stages at major performing arts centers across the U.S.
Lisa loves all genres of music but her favorite is R&B
Lisa plays classical piano
Lisa's mother, Aurora, was a classically trained pianist, beautiful soprano and a signed Motown songwriter whose songs include Stevie Wonder's "Everyone's a Kid at Christmas Time"
The most amazing thing happened to Lisa on 9/22/2019
---
MUSICAL INFLUENCES:
Ron Miller
Stevie Nicks
Barbra Streisand
Ella Fitzgerald
Ray Charles
---
YEARS ACTIVE:
1970 - Present
---
INSTRUMENTS PLAYED:
SOCIAL | WEB