ABOUT THE ARTIST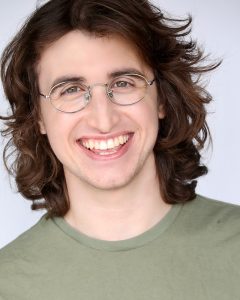 Actor / Singer / Songwriter / Producer / Director, Oliver Richman, is a graduate of New York University Tisch School of the Arts and University Honors Scholar with a BFA in Drama. He has appeared in film, on stage, and on television. He has released multiple singles and several music videos. At just nine years old, his debut video of "Defying Gravity" received went viral on YouTube. At ten years of age, he was personally invited by legendary icon, Stevie Wonder to share the stage at the Microsoft Theater in Los Angeles where he received a standing ovation from over 7,500 people. Oliver was featured on Byron Allen's "The Young Icons," a nationally syndicated show about young people changing the world. He appeared in NBC's pilot of "Mr. Robinson," starring Craig Robinson, and has performed leading roles in several musicals and numerous live theatrical productions. Oliver recorded the Special 50th Anniversary Edition of "For Once in My Life," which was written by his grandfather, legendary songwriter, Ron Miller.
In 2018, Oliver graduated high school with High Honors in Los Angeles. He won multiple awards in the DTASC Drama Festival and the DTASC Shakespeare Festival including for writing, directing, and performing in "Hamlet the Musical."
In the summer of 2018, Oliver was chosen to attend the A Cappella Academy, led by Avi Kaplan, Ben Bram and Rob Dietz, where he created and performed with young people from all over the world.
Oliver has written, produced, directed, and performed in multiple projects for New York University including "The Reality Show," "The Prophet," "Offstage" and the award-winning, "Chasing Time." He was a member of NYU's prestigious a cappella group, N'Harmonics, where he also served as Assistant Music Director.
Oliver enjoys learning, reading, singing, performing, directing, writing, and spending time with and supporting his friends and family! For fun, he makes TikTok videos that go viral!
---
PLAYLISTS
---
ARTIST FACTS
Oliver loves diagramming sentences
Oliver thinks "Lost" is the greatest TV show of all time and wrote a song about it
Oliver is a graduate from NYU Tisch School of the Arts
Oliver makes TikTok videos for fun that go viral!
---
RESUME
---
SOCIAL | WEB
MUSICAL INFLUENCES:
Lisa Dawn Miller
Ron Miller
Stevie Wonder
Bruno Mars
Eagles
---
YEARS ACTIVE:
2003 - Present
---
INSTRUMENTS PLAYED: