At LDM Worldwide, we invite you to imagine and dream with us! Please listen to our songs, catch one of our live stage productions, and/or watch our music videos and film shorts.
Music and songwriting are at the core of everything we produce. We have great reverence for the legendary songwriters of yesteryear. We believe there is a strong desire for legacy catalogues because of the artistic integrity of its creators. We aspire to write the standards of tomorrow – songs that transcend time and can be reimagined for generations to come.
One of the world's greatest songwriters once said, "Before a great singer, before a great arrangement, before a great recording, there is the song. It always starts with a great song." That songwriter was Ron Miller ("For Once in My Life"). We manage his legacy catalogue and are writing and creating our own legacy for tomorrow.
Whether we are managing an artist, writing a song, producing a show, or filming a music video, we are passionate about what we do. As artists, we each have a unique gift, and we believe a responsibility, to use our art to change the world… make people feel, think, and ask questions. We hope you will join us on this wondrous journey.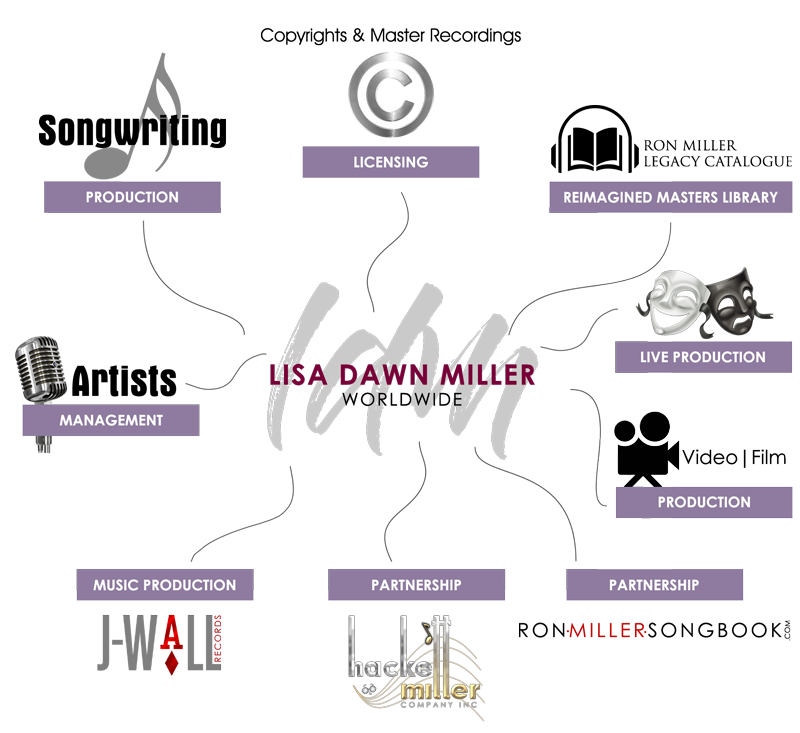 We write, record, and produce songs. We also create, tour, and produce live shows, direct music videos and film shorts, and license music and master recordings from our own copyrights catalogue. We manage and promote artists including the legacy of legendary songwriter, Ron Miller and his vast song catalogue which includes megahits "For Once in My Life," "Touch Me in the Morning," "Yester-Me, Yester-You, Yesterday," "A Place in the Sun," "Heaven Help Us All," "I've Never Been to Me," "Someday at Christmas," "One Little Christmas Tree," "If I Could" and many more. We are the number one, go-to source to discover songs from the Ron Miller Legacy Catalogue and are building a library of reimagined masters which include classic standards, as well as newly discovered songs.